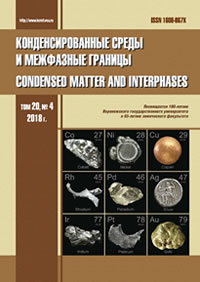 «Kondensirovannye sredy i mezhfaznye granitsy» (CONDENSED MATTER AND INTERPHASES)
ISSN 1606-867Х
Five-Year Impact Factor (RSCI 2013) 0,306
Founder
Belgorod National Research University
«Kondensirovannye sredy i mezhfaznye granitsy» was established in January 1999 under the support of the Kurnakov Institute of General and Inorganic Chemistry RAS.
ABOUT THE JOURNAL
The journal is focused on key investigations across a broad spectrum of condensed matter problems, physicochemical and electrochemical processes on interphase boundaries. The journal is issued 4 times a year.
AIMS AND SCOPE
«Kondensirovannye sredy i mezhfaznye granitsy» publishes review articles and reports of original research on the following fields:
Atomic, Electronic and Cluster Structure of Solid State, Liquids and Interphases.
Phase Equilibrium and Defect Formation.
Kinetics and Dynamics of "Cluster-Fractal" Transformation at First-Order Phase Transitions.
Laser Thermochemistry and Photo-Induced Processes on Solid State Surface.
Physico-Chemistry of Thin Films and Heterostructures.
Kinetics and Mechanism of Thin Film Formation.
Electrochemical Processes on Interphases.
Chemistry of Surface Phenomena on Adsorbents.
Devices and New Methods for Investigations.
All materials have to pass review process. The main attention is paid to original papers covering the important completed investigations. The materials which repeat early published data are not admitted to publish. Equally with original scientific papers the journal accepts the final review prepared according to the request of Editorial Board as well as short communications (no more than 4 pages).
Condensed Matter and Interphases is an international journal encouraging the papers in English from researchers in the field of solid state all over the world.
AUDIENCE
Scientific and technical researchers, higher school teachers, postgraduates and students
AUTHORS
Leading scientists of Higher School in Russia
Researchers from academic and non-academic scientific-research institutes in Russia
Higher school teachers
Postgraduates
Students
Scientific researchers all over the world
SUBSCRIPTION
«Kondensirovannye sredy i mezhfaznye granitsy» is delivered by the subscription in advance solely. It is not sold by retail. The subscription is carried out in any post office in Russia by the General Catalog "Russian Press", 80568 index.
The full-text version of the journal in electronic format is available online: http://www.kcmf.vsu.ru/ and elibrary.ru
INDEXED IN
Russian Science Citation Index (RSCI)
The journal is included in the List of Russian Peer-Reviewed Scientific Journals that publishes dissertation abstracts submitted as partial fulfillment of the requirements for the degrees of Candidate and Doctor of Sciences (as per Russian classification of graduate degrees), 2011 edition.
The journal is registered at the Federal Service for Supervision of Communications, Information Technology and Mass Media (Roskomnadzor). Registration certificate number is ПИ № ФС77-28318 from 15.06.2007.
EDITORIAL OFFICE
Postal address:
Voronezh State University
Department of Chemical
University sq. 1, r. 351, Voronezh, 394006
Phone: +7 (473) 2208445
e-mail: kcmf@main.vsu.ru